What is the Synodality? — It is a process of coming together, walking together, listening to one another, and discerning the path along which the Holy Spirit is leading us. On Wednesday May 11th the young adult Synod listening session led by Bishop Alberto Rojas, Bishop of San Bernardino Diocese was live streamed from Wordnet.
There were four selected panelists as representatives of the diocesan youth and a live audience in the studio and online with their comments and questions. Bishop Rojas accompanied the four representing youth listening to their experiences and inviting them to share where they are being led by the Holy Spirit.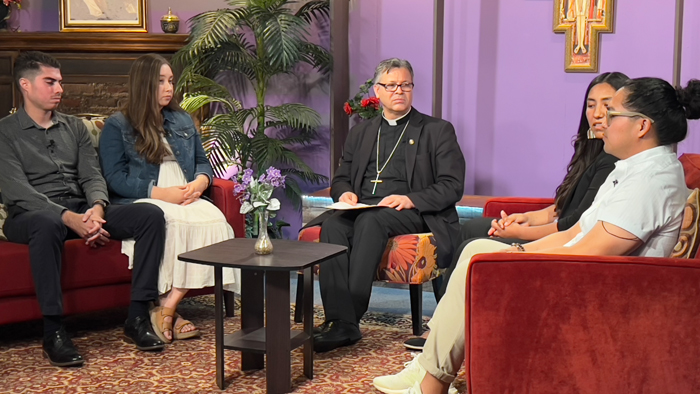 The youth were very forthright in sharing their expectations from the Church about faith journey, social, political, societal issues, racial divide and journeying together as the young Church. You can watch the panel on YouTube https://www.youtube.com/watch?v=zNpUT7Z7c5c
Wordnet also had its regular monthly taping of interviews where we interviewed four guests. Russell Degnan, CEO of Operation New Hope (ONH), a program to provide opportunity to disadvantaged youth
with essential life skills and vocational resources to build a road map to succeed in life. As the CEO of ONH his passion is to provide hope and show opportunities to those youth who have failed and feel desperate and dejected. ONH provides them the needed encouragement by actively engaging community leaders and partners in the program.
Rosalie Vilchis is the Director of Religious Education/Faith Formation at St. Catherine of Siena Church, Rialto. Rosalie is also a media person involved in many Hollywood film and television productions as a freelance production assistant. She shared about her faith life as the Religious and Faith formation director and the balancing of media life.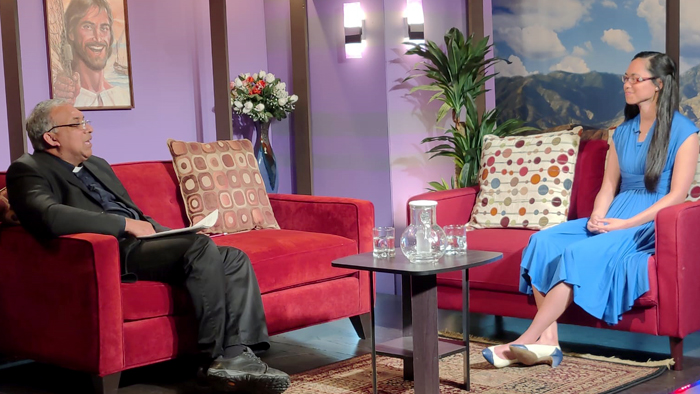 Carrell Jamilano is an author and trained Spiritual Director. Spiritual direction is a unique tool to listen to the voice of God, resolve prayer obstacles and enjoy the fruits of transformative prayer to find meaning in life. It is knowing oneself by listening to God. Her book "The Alluring Voice of God: Forming Daily Encounter" discusses questions like "is God really listening?, what is God calling me to do?"
Kathleen Lizardi-Calhoun is the author of "Spirit-Driven", a collection of song lyrics and poems that try to capture the journey of the soul as it experiences the union with the ever-present God who continually talks and reveals to us through prayer and meditation. A teacher by profession, she shares her deep and intimate prayer life and apparent personal experience of the presence of God. There shows will be available in the coming months on Wordnet YouTube and live streaming channel.