Wordnet celebrated a Memorial Mass remembering specially those passed away during this pandemic time on March 18, 2021 in the Studio. The Mass was live streamed. There were more than 350 participants across the globe who joined to pray and remember the loved ones on YouTube and Facebook. It was a bilingual celebration in English and Spanish. Frs. Soney Sebastian and Pavol Sochulak were the principal celebrants and Deebar Yonas concelebrated.
The celebration was organized due to the suggestion of Jennifer Rodrigues, one of Wordnet Champions. It was a way to meet the need to celebrate the lives of many who died during this pandemic time whose lives we couldn't celebrate, not even a proper funeral. This was to give the people a chance to mourn and celebrate their loved ones. The Mass preceded an eight days of novena rosary for the dead.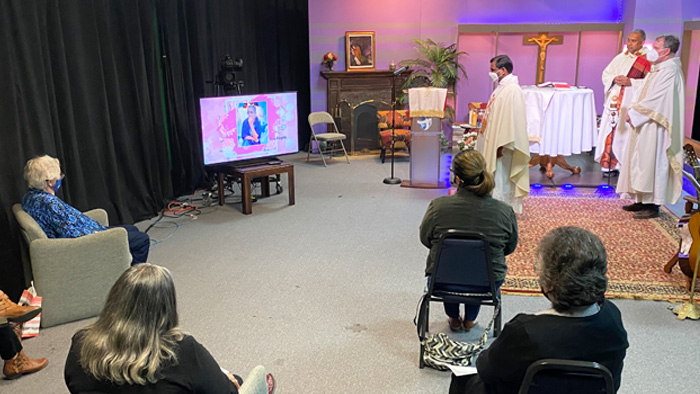 "Every departure is painful, especially when it happens through death as we cannot meet again in person in physical form. But our faith gives us an opportunity to hope for another meeting together", said Soney in his sharing during the Mass. Six representatives joined the Mass in person at the studio besides Wordnet staff. A total of 220 deceased were remembered through pictures and names. Everyone acknowledged their appreciation for having this wonderful opportunity to remember their loved ones.